ESE - Operational course for social innovation
ESE - Operational course for social innovation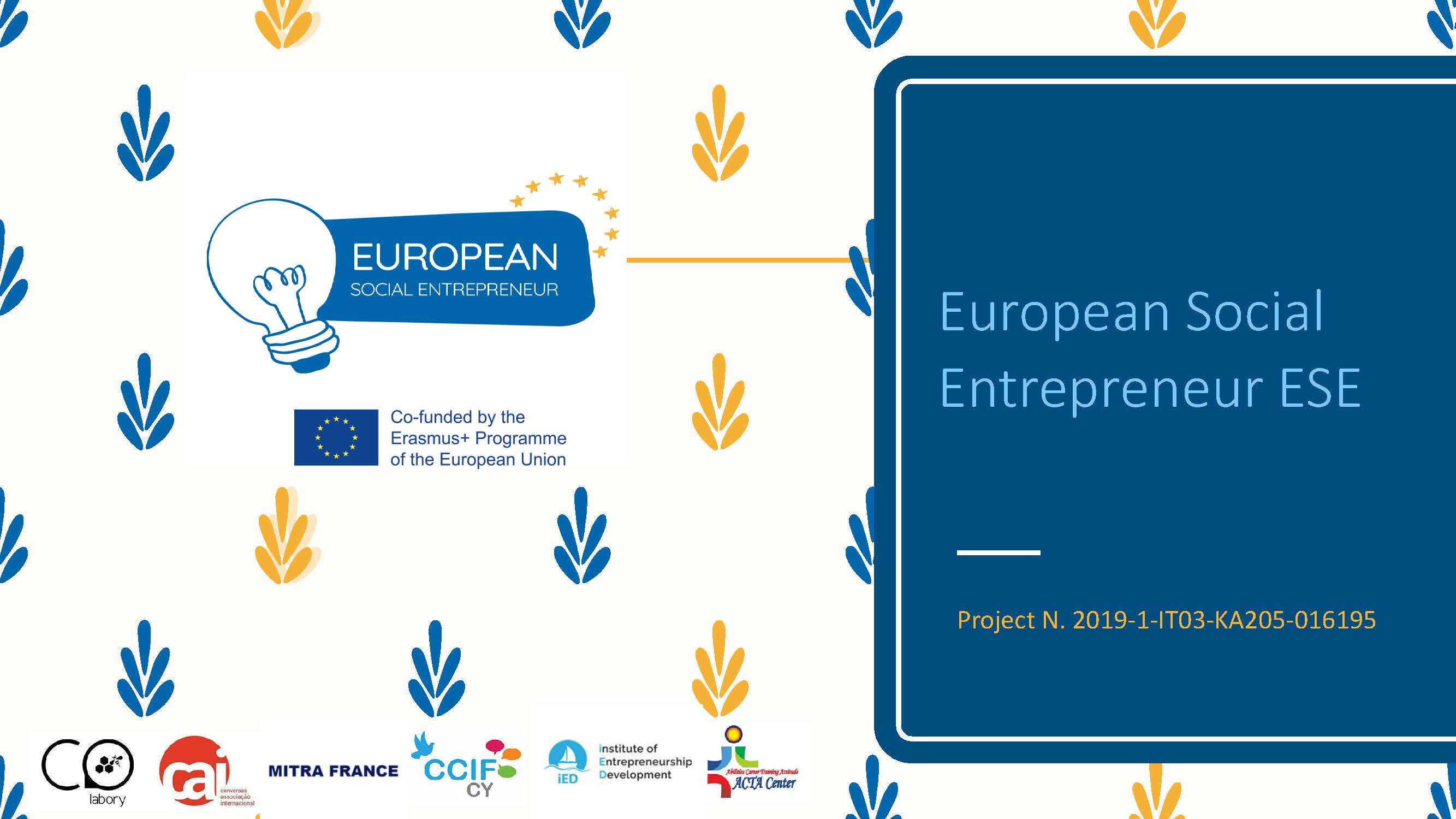 ESE - Operational course for social innovation
Guidance and information on Social Entrepreneurshiop and the 3rd sector.
Engagement techniques for disadvantaged young people.
How to support young people in the development of a business project through the description of the typical contents of a Business Plan applied to social entrepreneurship.
How to support young people who want to start up successful social enterprises and tools available.
Problem solving and management of interpersonal relationships.
Best practises form succesful examples of active citizenship (case studies).
Supporting people in the acquisition and development of basic and key skills applied to social entrepreneurship, in order to promote employability, socio-educational and professional development, as well as participation in civil and social life.
Supporting Youth workers in order to strengthen their professional development as well as promote actions to support high quality and innovative teaching.
Supporting youth workers in the development and sharing of effective methods to reach marginalized young people.
---
"Operational course for Social Innovation" is a course aiming at the inclusion of diasadvantaged groups in society by acquiring skills and tools that wil assist them and make them valuable members, will gain more ingormation on social entrepreurship and will be able to create their own businesses. These results will be achieved through the developed materials of the course. Each module contains a theoretical and methodological part, to check and ensure the acquisition of knowledge on learners in a more practical way.
Module 1 - "WHAT IS SOCIAL ENTERPRENEURSHIP" is an introduction on the basic concept of social entrepreneurship that will be followed by an interactive workshop for better understanding of the term.
Module 2 -"WHERE TO FIND FUNDINGS FOR A SOCIAL ENTERPRISE" focuses on the financial aspect of a social business, and provides information on all the funding opportunities assisting learners in their path of creating their own business.
Module 3 -"LAUNCH A SOCIAL ENTERPRISE PLAN" launches the idea of a business plan, points out the significance of a business plan and provides useful guidance on how to prepare one. This effort is strengthened with a practical workshoip for personal reflection.
Module 4 - "BUSINESS MODEL CANVAS"- In addition to the business plan in this section another useful tool is explained, business model canvas.
Module 5 - "WHO IS THE SOCIAL ENTREPRENEUR". In this module more information ad tools are shared for better understanding of the term social entrepreneur.
Module 6 - "IMPACT OF SOCIAL ENTERPRISES"-In this module the impact of social entreprises is measured by studying succesful examples of sustainable social enterprises.
All the above modules are focusing on essential topics that will enhance learners' skills and prepare them better for the business world achieving social inclusion and personal growth
---
The project aims at enhancing the skills and way of thinking of learners by providing information, tools on social entrepreneurship that will assist them in becoming valuable members of society, either by creating their own businesses or having all the necessary skills to work for the 3rd sector. Moreover, this project focuses also on youth workers and how to ensure better approach on the learners.
---
This course can be attended by disadvantaged young people, youth workers and relevant stakeholders.
---
Participants will have to fill an initial questionnaire to test their knowledge and at the end of the training course they will fill a final questionnaire that will evaluate and measure their progress and acquisition of skills.